Rust911- Saves the Day and Some Money
A 2000 Honda Accord had a hood latch that did not work. The rust on it rendered it inoperable to a point that pry bars had to be used. I finally opened the hood without severe damage and looked at the latching mechanism. The rust was all over it, especially in the wire cable and spring areas.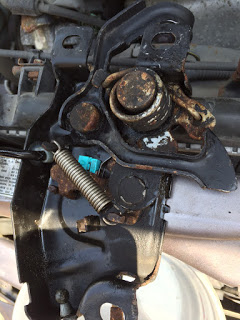 This is the picture of the 2000 Honda Accord latching mechanism before
I called several auto shops in the area to see what it would cost for a new part and none of them had the part in stock, so we looked online. The part was online, but to buy a brand new part was about $100 (plus shipping). I decided to try Rust911 Rust Remover instead.
I ordered a 1-gallon container of Rust911 Ultra-Concentrate, which makes 16-gallons of solution when it is diluted. I only had to use 1/2 a gallon (4 ounces of concentrate) to remove the rust off this part. The 1/2 gallon of solution only costed me $1.80! The part was left in the rust remover for about 2 hours.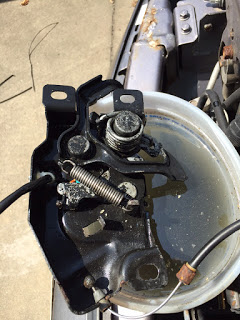 When we came back to look at the results, the rust was completely removed. The best part about the part sitting in the liquid rust remover is that the rust was removed from between the springs and all the nooks and crannies. The latching mechanism worked like new and it looked like a brand new part!
The cost for the rust remover we used was about $1.80. The cost of the brand new part was about $100 (plus shipping). The total savings of this project was around $98.00!
THANKS RUST911!
Recent Posts
Removing Rust from a Gas TankRust inside of a gas tank can cause damage to the fuel lines if it is l …

Products we use EVERYDAY are destroying the environment. Cosmetics, cleaning supplies and auto …

Rust911- Saves the Day and Some MoneyA 2000 Honda Accord had a hood latch that did not work. & …